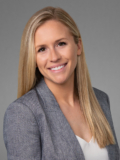 Jennifer Hanslik is an assistant vice president for KA Fund Advisors, LLC. She is responsible for treasury operations and providing analytical support in the areas of cash forecasting and debt compliance.
Prior to joining Kayne Anderson, Ms. Hanslik was a manager in Grant Thornton's Houston assurance practice, where she performed audits of various public and private companies.
Ms. Hanslik earned a B.B.A. in Accounting from the University of Texas at San Antonio in 2014 and is a Certified Public Accountant in the State of Texas.