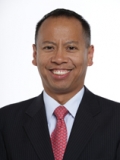 Patrick Songsanand is a research analyst for the firm's marketable securities activities and is responsible for global infrastructure investments including the power, renewable energy, and oil & gas sectors.
Prior to joining Kayne Anderson in 2017, Mr. Songsanand was a portfolio manager at DoubleLine Capital in their global infrastructure group. Prior to DoubleLine, he was a member of the investment team at EIG Global Energy Partners (and its predecessor, TCW's energy & infrastructure group). Prior to TCW, Patrick was an analyst at Lazard Middle Market (formerly Goldsmith Agio Helms), advising financial sponsors and companies on M&A transactions.
Mr. Songsanand served in the United States Navy as an officer and aviator, flying in the E-2C Hawkeye carrier-based aircraft. He was selected as an exchange officer to serve with the Royal Air Force, operating the E-3D Sentry (AWACS) command and control aircraft in combat over Iraq and Afghanistan.
Mr. Songsanand is a CFA charterholder and a graduate of the University of Pennsylvania, where he earned a Bachelor of Science degree from The Wharton School and a Bachelor of Applied Science degree from the School of Engineering.