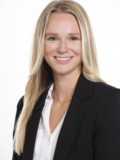 Sophie Gunderson is a research analyst for Kayne Anderson Capital Advisors' liquid energy infrastructure and renewable infrastructure strategies, where she is responsible for equity research and portfolio analysis.
Prior to joining Kayne Anderson in 2022, Ms. Gunderson was a managing consultant for Guidehouse's wholesale energy market consulting practice where she focused on forecasting wholesale electricity prices and capacity expansion builds across North America. These forecasts helped utilities, investors and developers construct integrated resource plans, estimate asset valuations and maximize asset profits.
Ms. Gunderson earned a B.S. in Geological Engineering in 2019 and is currently pursuing a M.S. in Sustainable System Engineering, expecting to be completed in 2023. Both degrees were earned from the University of Wisconsin – Madison.