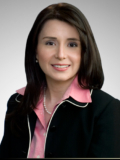 Adriana Jimenez serves as vice president for KYN and KMF and is a controller for KA Fund Advisors. She is responsible for the financial reporting of various public liquid infrastructure funds.
Prior to joining Kayne Anderson in 2009, Ms. Jimenez was a supervisor of corporate reporting for Dynegy Inc. Before that, Ms. Jimenez was a staff accountant in the international division and corporate division for Universal Compression Inc.
Ms. Jimenez earned a B.S. in Business Administration with a management concentration and a minor in Public Relations from John Brown University in 1998. She is a Certified Public Accountant in the state of Texas.