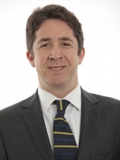 Evan Ben-Ner is trading operations manager for Kayne Anderson Capital Advisors.  Prior to joining Kayne Anderson, Mr. Ben-Ner was one of the founding partners of Bay Mutual Financial, LLC, a FINRA member broker-dealer focused on providing wealth management, brokerage services, and retirement plan consulting.  During his seven years at Bay Mutual, he served as Chief Compliance Officer, Operations Manager, and Financial and Operations Principal.
From 1996-1999, he served as Head of Wrap-Fee Trading and Assistant Portfolio Manager for Roxbury Capital Management, a mid-size investment manager specializing in large and mid-cap growth investments.
Mr. Ben-Ner earned an M.B.A. from the NYU Stern School of Business in 2003 and a B.A. from the University of California at Berkeley in 1992.  He is a CFA charterholder and maintains ten securities registrations (FINRA Series 4, 7, 24, 27, 53, 55, 63, 65, 79, and 99).