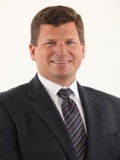 J.C. Frey is a managing partner at Kayne Anderson Capital Advisors, L.P. and has been at the firm for more than 23 years.  During his tenure, he co-founded Kayne's listed energy infrastructure group and has grown it into one of the leading energy infrastructure platforms.  More recently, he has expanded the infrastructure platform to include renewables and was named co-head of Kayne's renewable platform.  Mr. Frey is one of the longest-tenured portfolio managers in the listed infrastructure sector, and currently oversees more than $3 billion in assets consisting of equity and debt securities.
Mr. Frey joined Kayne in 1997, launched Kayne's first energy infrastructure fund in 2000, and has served as portfolio manager since its inception.  As a co-founding partner of KA Fund Advisors, LLC, the adviser to Kayne's publicly traded closed-end funds, he was instrumental in the creation and initial public offering of Kayne Anderson Energy Infrastructure Fund, Inc. (NYSE: KYN) in 2004, the largest publicly traded energy infrastructure closed-end fund in the market today. Mr. Frey was also responsible for the 2010 initial public offering of and public investments for Kayne Anderson NextGen Energy & Infrastructure, Inc. (NYSE: KMF).
As co-head of renewables, J.C. has helped position Kayne's strategy to invest in the global energy transition.  He created and launched the first renewable energy infrastructure fund of its kind in 2017, and participated in the creation of Kayne's first mutual fund in 2020.  Additionally, Mr. Frey oversees a team of 20 investment professionals and manages several other commingled partnerships and separate accounts on behalf of a distinguished list of high net worth, family offices and institutional clients.
Prior to joining Kayne Anderson, Mr. Frey was an audit manager in KPMG Peat Marwick's financial services group, specializing in banking and finance clients, and loan securitizations. Mr. Frey is a Certified Public Accountant and earned a B.S. in Accounting from Loyola Marymount University in 1990 and a Master of Taxation from the University of Southern California in 1991.