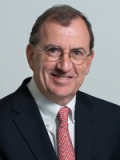 Kevin McCarthy is a vice chairman at Kayne Anderson Capital Advisors, L.P., where he co-founded and oversees the firm's energy infrastructure securities activities.
Prior to joining Kayne Anderson in 2004, Mr. McCarthy was the global head of energy at UBS Securities LLC. In this role, he had senior responsibility for all of UBS' energy investment banking activities, including direct responsibilities for securities underwriting and mergers and acquisitions in the MLP industry. From 1995 to 2000, Mr. McCarthy led the energy investment banking activities of Dean Witter Reynolds and then PaineWebber Incorporated. He began his investment banking career in 1984. Mr. McCarthy is currently on the board of directors of Altus Midstream Company. He has previously served on the board of directors of several publicly traded energy companies, including Range Resources Corporation, ONEOK, Inc., Emerge Energy Services LP, and K-Sea Transportation Partners L.P.
Mr. McCarthy earned a B.A. in Economics and Geology from Amherst College in 1981 and an M.B.A. in Finance from the Wharton School at the University of Pennsylvania in 1984.