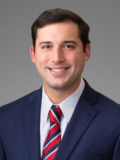 Lorenzo Cantu is an analyst for KA Fund Advisors, LLC. He is responsible for providing analytical support in the areas of accounting and financial reporting.
Prior to joining Kayne Anderson, Mr. Cantu was an associate in KPMG's Houston assurance practice, where he performed audits of various public and private companies.
Mr. Cantu earned a B.B.A. in Accounting and an M.S. in Accounting and Data Analytics from the University of Mississippi in 2020 and is a Certified Public Accountant in the State of Tennessee.