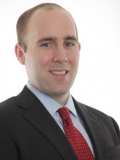 Michael O'Neil is the chief compliance officer of Kayne Anderson Capital Advisors, L.P., and also serves as Chief Compliance Officer and Secretary of KYN and KMF.
Prior to joining Kayne Anderson, Mr. O'Neil was a compliance officer at BlackRock Inc., where he was responsible for regulatory compliance matters related to trading and portfolio management activities across equity, fixed income and alternative assets.
Mr. O'Neil earned a B.A. in International Business and Management from Dickinson College and an M.B.A. from Boston University.