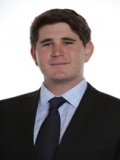 Preston (P.J.) Fielding is a research analyst for the firm's marketable securities activities. He is responsible for providing equity research and analytics on infrastructure investments, with an emphasis on renewable energy companies.
Prior to joining the marketable securities group in 2015, Mr. Fielding was an associate in Kayne Anderson's Growth Private Equity group, where he was primarily responsible for identifying and analyzing investment opportunities. He also assisted with the monitoring of portfolio companies and deal execution.
Mr. Fielding graduated cum laude with a B.A. in Political Science from the University of Pennsylvania.