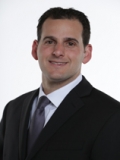 Randy Laufman is a research analyst for the firm's marketable securities activities and is responsible for the analysis of debt investments with an emphasis on midstream energy, metals/mining, marine transportation and offshore drilling. Prior to joining Kayne Anderson in 2014, Mr. Laufman worked as a senior credit analyst at Odeon Capital Group, LLC focusing on opportunities in high yield, distressed and convertibles.
Prior to that, Mr. Laufman worked for over ten years as a senior analyst with Imperial Capital, LLC, primarily focusing on the marine transportation sector, convertible bonds and other opportunities in high yield and distressed.
Mr. Laufman earned a B.S. in business from Indiana University. He is a Chartered Financial Analyst charter-holder and is a member of the CFA Institute and the CFA Society of Los Angeles.